Divorce mediation is a process that allows divorcing couples to meet with a specially-trained, neutral third-party to discuss and resolve common divorce-related issues. Mediation is typically less stressful and less expensive than a divorce trial, and it usually proceeds much faster.
(Source: Nolo)
THE ATTORNEYS AT WEIBRECHT & ECKER CAN HELP LEVERAGE MEDIATION AS AN OPTION FOR DIVORCE
An alternative dispute resolution such as mediation with a trained mediator can often be the best course of action.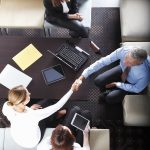 The attorneys at Weibrecht & Ecker, PLLC provide neutral mediation services for divorce, family law. and other mediation needs for attorneys, their clients, and unrepresented parties looking to resolve their civil and domestic disputes without a trial. And we do so in both New Hampshire and Maine. Mediation is one of the most commonly used methods of negotiating a divorce settlement in which you and your spouse agree to work with a neutral third party, called a mediator, to sit down with both parties in an effort to discuss and resolve the issues in your divorce. The mediator does not impose or make your decisions for you, but serves as a facilitator to help you and your spouse agree to conditions that are amenable to both parties. 
As trained mediators operating on the NH Seacoast including Dover, Portsmouth, Rye, Hampton, Rochester, and Exeter, we help parties determine their interests and goals and develop creative agreements that satisfy those interests and goals. This approach can be used in divorce mediation, family law mediation or other conflict situations.
Both clients and their attorneys typically report that mediation as an alternative dispute resolution ends up being less expensive, quicker, and provides more positive outcomes overall than seen in a trial. In addition to providing neutral mediation services, we regularly counsel and advise our clients about the benefits and limitations of mediation as a way to resolve their particular family dispute. If a client chooses mediation, we will help facilitate the selection and use of a trained, skilled mediator and will participate in whatever stages of mediation preparation our clients wish.
Divorce mediation brings couples together to meet with a mediator – someone who is impartial and represents neither party. Plus, Mediation is fully voluntary. It continues only for as long as all three of the involved parties including yourself, your spouse, and the mediator – want it to. It allows for much more control and flexibility than traditional divorce, By looking to Collaborative Divorce and Mediation strategies as alternatives to a court driven approach, we provide you the tools and information to make the tough decisions together, mutually, yet with the help of outside counsel. 
Some other benefits of mediation are as follows:
Mediation is often less expensive than a court trial and is thus a more affordable option. 
You are never alone – you may still have a lawyer representing you during the mediation process.
Most mediations end in resolutions that cover all, not some, of the issues in your divorce.
Mediation remains confidential, with no public record of what goes on in your sessions.
Mediation allows you to arrive at a resolution based upon collective ideas from both parties who decide what is fair to their unique set of circumstances. This is opposed to having a court impose a solution upon you based on rigid and impersonal legal principles of the court system. With mediation, you and your spouse — not the court — can control the process and have real power over the outcome.
The mediation process can improve both communications and the final outcomes between you and your spouse, helping you avoid future legal conflicts. If parties are amicable and agree to the divorce (feel good about it) this often leads to long-term satisfaction amongst all parties.
The attorneys and mediators at Weibrecht & Ecker are available to conduct mediation sessions in our offices located in Dover, NH and Portsmouth, NH, or at another site of your choosing. Contact us today to learn more.
Let's talk.
We know that getting a divorce is difficult, and the legal team at Weibrecht & Ecker is committed to maintaining your privacy and making the Collaborative Divorce process as easy as possible.